Four short days is no time at all when it comes to the never-ending choice that the Fringe offers, especially when Edinburgh has so many non-Fringe distractions. However, I did manage to fit in a fair few hours of comedy and theatre, and here's what I hope you'll see too.
THE MUST SEES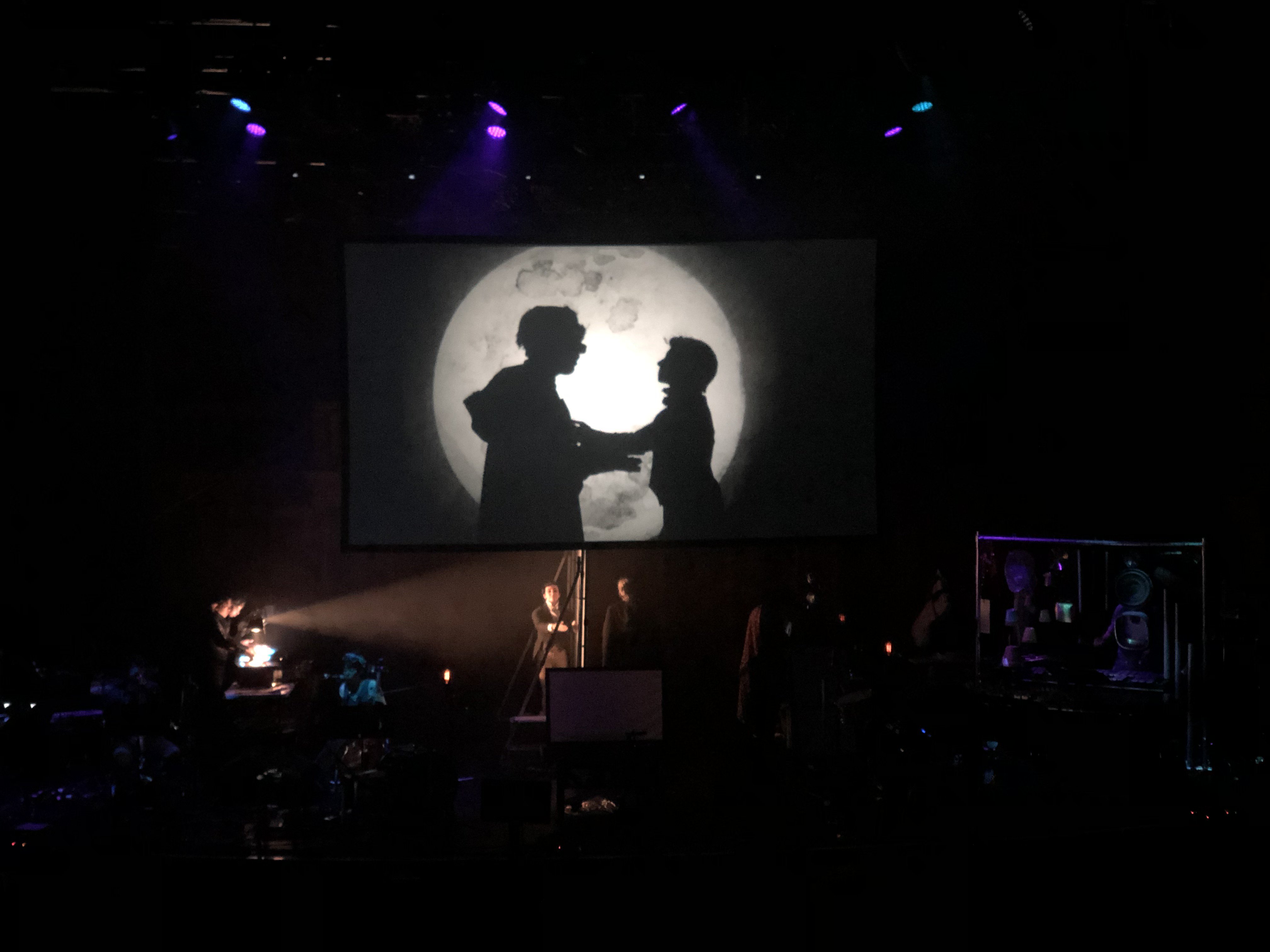 Until Aug 26, 2:45pm, Underbelly, Bristo Square – McEwan Hall (Venue 302)
Imagine getting to watch a beautiful piece of artistic cinema be made. Wouldn't that be incredible? Well, Manual Cinema do just that. Using projectors, puppets, costumes and multiple cameras the cast/crew tell the story of Mary Shelley and Frankenstein right in front of you. The ethereal, other-worldly soundtrack is also created on-stage as the film plays. The whole experience is aesthetically beautiful and completely compelling, quite unlike anything else you'll see at the Fringe.
Until Aug 25 (Except Aug 14), 10:50pm, Pleasance Courtyard – Pleasance Two (Venue 33)
Grab a couple of drinks and prepare yourself for a riotous night of totally made up and utterly mad comedy. The Noise Next Door foursome offer the very best of comedy improv, compliment by a few extra special guests. Of course, every night is different. But, for reference, our night included a man stuck to a submarine with the bodily fluids of a hedgehog and a plan by Jacob Rees Mogg to take us all back in time. Bring your best suggestions, the madder the better. My show included the incredible beatboxing talents of Jarred Christmas and Hobbit (who, despite their very blue jokes, actually have a kids show) and the very, very funny Robin Morgan. I'd recommend both, also.
Until Aug 25, 12:00PM, Laughing Horse at Cabaret Voltaire (Venue 338)
Sammy Hannah's show really is the Chicken Soup for the Soul of comedy. Her account of her rollercoaster year to happiness is both heartwarming and belly-achingly funny. It may have taken her a year to find happiness, but you can easily find it in 50 minutes at Cabaret Voltaire. Plus, any show that incorporates illustrative graphs to get across its point is a win from me. The show is free, but please give her some money, preferably the kind that folds.
WORTH SEEING
Until Aug 25 (except Aug 19), 4:30pm, Summerhall – Demonstration Room (Venue 26)
We've all been through a time when, heartbroken and sore, we've felt like curling up in a darkened room and bawling out a few love songs. That's what Zoe did, except she was in her shed. The room is, frankly, haunting, and adds gravity to her gentle ballads and raging anthems. Strange, sometimes absurd, and totally captivating; it's the perfect Fringe solo show.
Until Aug 25, 9:15pm, Money Barrel Comedy – Money Barrel 3 (Venue 515)
Powerful, relatable and downright funny – Tiff is woman who deserves your time. Her show tackles all things womanhood, from feminism to fascists and babies to big boobs. It's not all seriousness, though, there's silliness amidst the satire, most notably in the form of an excellent Joanna Lumley impression. Her feminist insights are nothing new, but that doesn't mean they aren't worth repeating, loudly, with a few laughs in-between.
Until Aug 24, 9:30pm, Pleasance Courtyard – Baby Grand (Venue 33)
You may not have heard of Simon, but you've probably heard of cheerful chap Lee Nelson. You've also probably heard of the guy that gave the P45 to Theresa May, showered money over Fifa's Sepp Blatter and delivered a few dozen Nazi golf balls to Donald Trump. Simon's show covers all pranks and personalities he's played over the years, as well as fatherhood, antisemitism and men's mental health. Situated in the intimated Baby Grand, the show is a perfect chance to get to know the man behind the wacky headlines.
Until Aug 25, 8:00pm, Pleasance Courtyard – Cabaret Bar (Venue 33)
I was a little disappointed when Phil didn't show up on stage in the fantastic yellow onesie he sported on Taskmaster. Nonetheless, he was sharp and funny throughout. If you like classic, no-frills, laugh-out-loud comedy then this is the show for you.
Until Aug 25, 5:05pm and 7:35pm, Laughing Horse at Cabaret Voltaire (Venue 338)
New to the Fringe? Free compilation shows are a great way to find out which acts are worth seeing. I opted for Laughing Horse's version, which saw five comedians take to the mic in the basement of Cabaret Voltaire. It's a different line-up every time and makes for the perfect appetiser to a full programme of entertainment. At my mid-afternoon gig some of the comedians struggled to read the crowd, offering jokes a little too blue for the time slot. However, there was laughter throughout. Host James Bran kept the mood light, and his technology-themed comedy show Hack may be worth seeing. Sam Kissajukian and Archie Maddocks were the highlights of the line-up, you should check them out too.
WISH I'D SEEN
Some of these I wanted to see but didn't have time. Others, I only heard about after I'd left. These are based on recommendations, great reviews or just getting a good vibe off the person handing out their flyers. Here's a slightly longer list of shows I would have seen with unlimited time and money.
Until Aug 26, 12:45pm, Pleasance Courtyard – Upstairs (Venue 33)
A dark comedy about foot-and-mouth disease set in the late 90s, written by Fringe First winner Emily Jenkins. It's apparently touching and rather wonderful.
Until Aug 26, 4:30pm, Pleasance Courtyard – Pleasance Two (Venue 33)
A retelling of the Yorkshire Ripper story, focusing on the police investigation that tried to catch him.
Until Aug 25 (except Aug 19), 8:00pm, Pleasance Courtyard – Pleasance Two (Venue 33)
An unapologetic and unpredictable performance about women's place in history, told through music/cabaret/dance/ranting.
Until Aug 25 (except Aug 19), times vary, Traverse Theatre – Traverse 2 (Venue 15)
A show about how it feels to get a burger thrown at you in a transphobic attack, and how to reclaim the experience.
Until Aug 24 (except Aug 14), 6:15pm, PBH's Free Fringe @ Sneaky Pete's (Venue 437)
Deadpan comedy about the essential topics of male toxicity, consent and… sheep herding.
Until Aug 26 (except Aug 19), 11:25am, Pleasance Courtyard – Pleasance Below (Venue 33)
A compelling solo show about a female archaeologist exploring the mysteries of her latest find.
Until Aug 17, 10:40pm, theSpace @ Surgeons Hall – Fleming Theatre (Venue 53)
The classic tale of Hardy's Tess of the D'Urbervilles retold with a feminist twist.